El 22 de enero de 2004 tuve el honor y la satisfacción de recibir el Reconocimiento como "
Mujer destacada del año
"
otorgado a mujeres latinas por parte del Semanario El Venezolano, en la ciudad de Miami - Florida.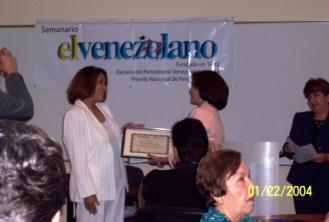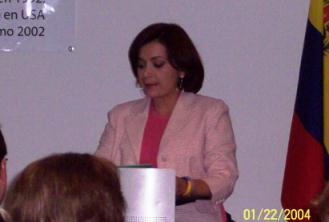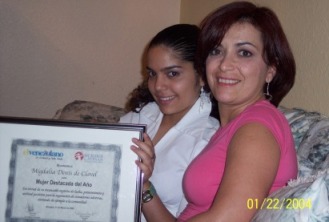 El 08 de marzo de 2006, con motivo del Día Internacional de la Mujer, nuevamente, el Semanario EL VENEZOLANO
de la ciudad de Miami-Florida, me otorga el reconocimiento como "Mujer destacada del año". Este homenaje
representa un mayor compromiso y un estímulo para luchar contra la hipertensión pulmonar y para continuar
ayudando a otros en similares condiciones.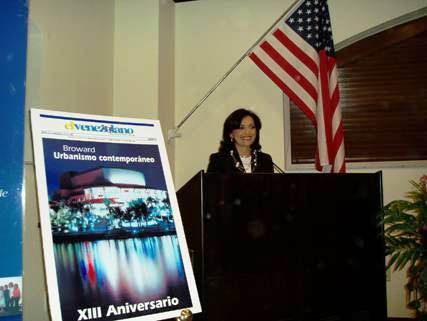 QUALITY PEOPLE
From: Ana Guarisma [ana@oxxousa.com]
Sent: Friday, March 24, 2006 9:27 AM
International Women´s Day is an ocassion marked by Women´s Gropus around the world. This date es also at the United Nations and is designated in many countries as a national holiday. When women an all continents, often divided by national bounderies and by ethnic, linguistic, cultural, economic and political differences, come together to celebrate their day, they can look back to a tradition that represents at least nine decades for equality, justice, peace and development.
International Women´s Day is the story of ordinary women as makers of history and Migdalia Denis our administration Manager has been commemorated last year thru The Hypertension Latin Society, company she build when acknowledging she had the illness her self to help people find the resources to deal with this difficult disease. She was called once again this year to talk in a Convention where EL VENEZOLANO NEWSPAPER participated and you can check her out in this months issue. Congratulations Migdalia Denis we are really proud to have with us.